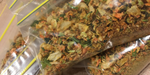 Written By: Kylie of The Happy Gut 
OK, so the jerky is done, now for the gut healing bags of brothy / vegetable goodness!
I'm always loking for ways to use the dehydrator and this trip has been a great excuse. Activated nuts and seeds ready to go, beef jerky ready to go, and now my emergency bags of broth and vegetable soup.
What I really want for my family while we're on the road is easy meals, not too much cleaning up, not too much food prep, healthy even though we may not have regular access to fresh vegetables or perishable fresh foods, while at the same time not compromising on the nourishing gut healing aspects of our diet. Easy right?
Enter my little bags of dehydrated vegetables, seasoning and some beautiful nourishing 'Broth of Life' dehydrated broth.
Ingredients:
This one is a bit of a mash-up. You can really add whatever you like. I used:
Carrots
Onions
Zucchini
Celery
Cauliflower
Ginger
Shallots
Lemon juice
Salt and Pepper
Broth of Life - Beef and Chicken Broth
Fresh herbs would be amazing as would many spices.
So there's a lazy person inside of me and I baulked at the thought of finely chopping  5 trays of fresh vegetables. So I used the thermomix. If you're using a thermi, the trick is to chop each vegetable separately. The zucchini are soft and only need a few seconds on speed 4, the carrots on the other hand are harder and I chopped them for 4 seconds on speed 6. The onions speed 5 and so on. My top tip for using the thermomix is to go slow, you can always chop more but you cant reverse a puree…
If you're chopping by hand I would advise finding a minion with knife skills! Just kidding, chop them into the size you normally would if you were going to make a vegetable soup.  The drying times may be a bit longer if you have larger pieces of vegetables.
After all of the vegetables were chopped I added in some lemon juice and tossed it through, this is just so I didn't get browning and lose too much colour while dehydrating.
These dehydrated vegetables are still raw. You're going to need to cook your soup just as you would a normal vegetable soup.
Once you spread your vegetables out in a thin layer on your dehydrator tray, allow them to dry at 37 degrees for at least 24 hours. It's not necessary to dry them at this low temperature, you're going to cook them anyway. If you're in a hurry, dry your vegetables at 50 degrees or even 60 degrees.
You'll be amazed at how little you have once all those vegetables are dried. Its a tad deflating!!
Now, this next step is where the magic happens. You can turn dried up vegetables into a deeply nourishing and tasty travel bag.
I was fortunate enough to meet both of the awesome women behind Broth of Life recently. I met Ada at the MINDD forum in Sydney in May and then Alison at the Wellness Basecamp at Kiama in June. Their broth is the only organic grass fed dehydrated broth that I know of in Australia. 1 teaspoon of broth makes a cup of broth, you can add it to anything you like to increase your gut healing or gut health.
For my travel bags I put:
1 heaped teaspoon of beef broth OR chicken broth
1/2 teaspoon of salt and a few turns of the pepper grinder 
Each bag had 50g of dehydrated vegetables and I am going to assume that will make a single serve of soup. To make up my soup I will add the bag of goodness into my pot with 300mls water and simply cook for 10-15 minutes.
That's it!
Of course, I must make a disclaimer here – this is purely experimental. I may need to tweak the vegetable to fluid ratio and the seasoning in future attempts.
What I'm really excited about with these, is the broth. I have bone broth every single day, the amino acids and proteins in the broth contain all the building blocks for a healthy gut lining. Our epithelial cells, microvilli and mucosal layer in the gut all require constant regeneration, meaning they require of building materials. Now it's not so easy to pop a 6L stock pot of beef bones on, while traveling across the country. This solution has got me quite excited. I will be taking the Broth of Life with me and adding it to just about everything.
So there you have it. I'll post some pics of the reconstituted soup on the road.
BUY DEHYDRATED BONE BROTH
BUY FULLY DISSOLVING BONE BROTH POWDER