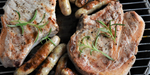 With summer here, it is time to fire up the barbie. Before you start cooking, take some time to learn about the best bbq seasoning to try at home.
The Best BBQ seasoning this summer
Summer means it's time to fire up the BBQ and get cooking.
Even with the changes that have happened through 2020, Aussies will still be "throwing another shrimp on the barbie' this summer. We are so fortunate to be able to gather as family and friends groups to celebrate and socialise.
There are several important tips to cooking food well on the BBQ. One of them is to make sure you are using the right seasoning with your BBQ lamb, beef, chicken or seafood.
While there is plenty of popular seasoning mixes out there, it makes sense to create something completely unique and make your own.
Take a look at our top tip for delicious home-made BBQ seasoning and sauces:
Mae your own BBQ seasoning
Creating your own seasoning is a great way to personalise your BBQ dishes and impress you friends and family.
Coming up with the perfect blend can take a little trial and error but one tip will make sure that your meat rub is delicious and healthy is to use bone broth as your base.
Made by simmering meaty joints and hocks fro an extended period of time, bone broth extracts many of the healthy fats and minerals found in meat, while retaining that mouthwatering flavour.
As a BBQ seasoning, bone broth brings a great taste that will compliment your meat and enhance it's flavour while keeping it nice and juicy.
Add a few spices and herbs of your choosing and you are on your way to creating a delicious BBQ rub that is unique to you. Fire it up with some spice or add a lemon and herb mix, depending on the final flavours you're looking for.
How to begin
To make your own BBQ seasoning, spend a little time perusing the internet for bone-broth-based seasoning and BBQ sauce recipes like these at realdfoodrn.com, greesbury.com and thrivemarket.com.
Once you have found a recipe or two that you like, give them a try and see how they go. Add or take away ingredients so the flavour is customised and you will have a one of a kind BBQ recipe.
One tip is to try dehydrated bone broth. Being dehydrated givesv you the option of creating a wet or dry rub, whichever you prefer.
Benefits of bone broth
Did you know bone broth is also good for your skin and hair?
When made from all natural ingredients, the product contains high levels of collagen, a major agent in the fight against ageing. Bone broth differs from traditional stock because it has a long simmering time and generally uses much meatier joints as a base.
So you are getting health benefits as well as a great BBW flavour when you add bone broth as an ingredient for seasoning.
Which bone broth to choose
For the highest quality Australian bone broth, check out our range at brothoflife.com.au.
Made from only the finest 100% organic certified products, Broth of Life bone broths are essential for the best BBQ seasoning.