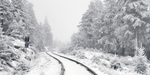 Our Top 10 Tricks to Beat the Big Chill
Winter. While spectacularly beautiful and somewhat refreshing after an intensely sweaty summer season, it can be downright freezing to the point of being intensely uncomfortable. Keeping warm in these chillier months becomes a top priority for all of us. While comfort is key, it's also great to be mindful of our impact on the environment. Cranking up the heater, while a great temporary fix, can ultimately do damage to the environment and to our hip pockets. So, what else can we do? Lots! Here a just a few suggestions to help keep you toasty this winter.
1. GET WOOLY
Wool has been designed by nature to protect us from the cold. More specifically, merino wool, is a powerful natural fibre. It's natural crimp in the fibre traps body heat and air pockets which helps to keep you warmer for longer. Merino wool's breathability allows it to release warmth as needed to prevent overheating and to cool you down when conditions become warmer. In other words, it helps regulate the body's temperature. It also naturally resists bacteria and odour retention and is light and comfortable to wear. Pretty amazing, right?
2. LEAVE THE OVEN OPEN AFTER BAKING
Sounds obvious doesn't it? Yet so many of us don't do it! Obviously excluding those of us who have young kids around the house, leaving the oven open after baking is a cost effective and efficient way to make the most of the heat generated from cooking. So, next time you whip up a batch of those bone broth biscuits or a delicious chicken casserole, leave the door ajar and take in the extra warmth.
3. LOAD UP ON CHICKEN SOUP
We, at Broth of Life love everything about chicken soup. It not only warms the body and soul but has been known for centuries as the elixir to heal cold and flu – and for good reason. The vitamins and nutrients that can exist in a batch of chicken soup, if cooked right, is phenomenal. Don't have 24 hours to spare to stand by the stove? Then power pack your chicken soup with the magic of our certified organic chicken bone broth! It'll add a nutrient dense fly kick to your chicken soup and will help it taste amazing too!
4. DRINK LEMON AND HONEY
This is one I've grown up on. It wasn't until later in life that I realised how powerful a lemon and honey drink could actually be. The medicinal powers hidden in the humble lemon are nothing to be scoffed at. Vitamin C, vitamin B6, vitamin A, vitamin E, folate, niacin, thiamin, riboflavin, pantothenic acid, copper, calcium, iron, magnesium, potassium, zinc and phosphorus… That's a pretty solid defence team. Couple it with manuka honey and you're onto a winner. Manuka honey is one of the most unique, beneficial forms of honey in the world. It has been used in folk medicine for thousands of years but has more recently gained the recognition it deserves. In its purer form (not your supermarket option), it has been known to help with Low Stomach Acid, Acid Reflux, can help treat acne and eczema, treat staph infections, treat burns and wounds, treat sore throats, assist with immunity and much more.
5. LET THE SUN SHINE IN
When the sun is out, make the most of it's natural heating power. Open up the blinds and allow the sun's rays to heat up your home. WEAR A HAT While the whole losing 40% of your body heat thing has proven to be something of a myth over the years, you do actually lose 5 to 10% of your body heat out of your head. If you ask me, when you're cold, that's enough to warrant donning a beanie!
6. RUG UP
Tiled or timber floors can be cold in the peak of winter. Investing in a fluffy, warm winter rug is a cosy solution to a cold house. They don't have to cost the earth these days either. Why not try shopping online! You might be surprised what you can pick up.
7. LAYER
Singlets, long sleeved tops, t-shirts, puffer vests, jackets, scarves, gloves… wear them all! If it keeps you warm, it's doing the job. Layering clothing can also be quite fashionable when done well.
8. STAY ACTIVE
Going for a run when it's icy outside is often the last thing you want to do. I know. I've been there… but once you actually get the motivation up to do it, you won't regret it. The cold can work as a further motivator and make you run faster. You'll feel great both physically and mentally afterwards and the temporary warmth you'll feel throughout your body will be well worth it.
9. HEAT PACKS AND HOT WATER BOTTLES
Tried and tested, these babies can become your best friends in the thick of winter. Snuggle up on the couch or in bed with a couple of heat packs or hotties and you might just forget winter is even here. There are tonnes of other ways to keep warm in winter, but short of building an igloo, these are our stand out favourites.
Of course, curling up with a piping hot mug of Broth of Life is the ultimate, but we figured you already knew that! *wink* If you need to stock up on your bone broth for winter, now is the perfect time. Add chicken bone broth to your soups, your lemon and honey drinks, to all your winter dishes or just drink up the deliciousness on its own. Whichever way you decide to consume it, our certified organic bone broth is the perfect winter warming, immunity building, cold and flu fighting companion.
BUY BONE BROTH
BUY THE NEW RANGE