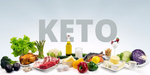 Over the years, we have seen a long list of fad diets, some nutritionally sensible and some that are purely focussed on weight loss. The ones that stand the test of time and have helped millions of people are generally the ones with a focus on achieving and maintaining a healthy weight, eating real foods and improving overall health.
You may have tried many, just a couple or you may not have tried any at all – regardless of which column you sit in, you are likely to have heard of;
The South Beach Diet

The Mediterranean Diet

The Zone Diet

The Atkins Diet

The Paleo Diet

The Volumetrics Diet

The Macrobiotic Diet

The Blood Type Diet

Weight Watchers

Calorie Counting

The Raw Food Diet
All of the above diets have their own specific benefits and each caters to a different set of needs. I could tap away for hours about how all of these diets are great (or not….) in their own ways. Instead, today, I will be making The Ketogenic Diet my focus.
A low carb, high fat (LCHF) diet, the Ketogenic Diet has been around for decades and was originally developed as a treatment for paediatric epilepsy. It has gradually evolved into its current form. Today, it is well known for benefiting weight loss, helping to lower blood sugar levels in diabetic patients, to improve brain function, heart health and is still also used as an epilepsy treatment. You can find more information about the various ketogenic therapies here.
HOW DOES A KETOGENIC DIET WORK?
The answer is in its name. The combination of low carb, high fat and a normal protein level intake forces the body into a metabolic state. It is in this state that ketones are produced. The body falls into this state of Ketosis when food intake is low - and by allowing the body to feed on less carbs (by consuming less carbs) it is forced to use glucose as its main form of energy. Once overloaded with fats and starved of carbohydrates the body will then adjust to burn ketones for energy.
HOW CAN BONE BROTH ASSIST A KETOGENIC DIET?
Along with the wonders that bone broth can achieve on its own, such as; reducing inflammation, fighting flu infections, assisting with the management of a leaky gut, strengthening hair and nails, improving skin plumpness, helping to reduce joint pain, boosting electrolytes and more, bone broth is an excellent and even essential addition to any ketogenic diet plan.
It is packed full of healthy gelatine and minerals and is an incredibly effective, natural and healthy way to replenish the electrolytes that are often lost amid a low carb diet.
Broth of Life's dehydrated, organic bone broth is low in carbohydrates and high in vitamins, gelatines and nutrients. It is the perfect way to make sure that your body is getting the goodness it needs when implementing a diet that can affect your stores.
The ketogenic diet and Broth of Life's dehydrated, organic bone broth seem to be destined to achieve greatness together – which for us, is very exciting! The more people we can help along the way, the more we are achieving our own goals. It really is a win, win scenario.
So, whatever your reason for trying the ketogenic diet, we, here at Broth of Life, would be honoured to be part of your journey. Why not add us to your diet plan and keep us up to date with your progress? We'd love to follow your story and hear your feedback.
BUY BONE BROTH