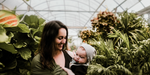 A Perfect Match
I don't know about you, but the abilities and benefits of bone broth never cease to amaze me. The capabilities of our favourite ancient elixir reach so far into the world of health and wellbeing that I am often rendered speechless. The incredible thing is though, that despite thinking I know all there is to know on the topic, it teaches me something almost daily. Most recently, along with its incredible healing abilities, its ability to fight infections, act as an anti-inflammatory and relieve joint pain; Broth of Life's handmade, certified organic, dehydrated bone broth has proven its abilities to create Mother's.
'What is she on about?' I hear you cry… but just hear me out. While not as well documented, studied or clinically proven as bone broth's other benefits, it's link to improved fertility is real. When you think about it and delve deeper into the details, it makes a whole lot of sense. Take marrow for example. Marrow exists within our bones and is what produces our blood. When we cook bones down and boil them to extract nutrients, we are releasing the strength and magic of the marrow within them. We may not then be considered fools for thinking that there is a link between the bone broth we consume, the strength of our own blood and ultimately; our overall ability and strength to be able to conceive and carry children.
Believe it or not, at Broth of Life HQ, we have experienced the phenomenon first hand. Our operations floor manager fell pregnant on her very first attempt after drinking bone broth every day for a year. Our primary service and mailroom officer fell pregnant and recently gave birth to a baby boy. Our social media liaison had been struggling to fall pregnant and after working with Broth of Life for just 12 months, had a baby boy in March. Oh, but it doesn't stop there! Our marketing guru fell pregnant with her second child and recently gave birth and after weaving our bone broth into her daily cooking, our copywriter also fell pregnant with her second baby girl. That's 5 Broth of Life babies in the space of 2 years!
If that's not proof in the pudding, I don't know what is!
What shouldn't be discounted either is the power of bone broth after conception. As we all know, the placenta is what gives our growing baby it's nutrients. What we eat directly affects the function of the placenta, so to consume vitamin and nutrient rich bone broth can only be doing our growing babies a world of good.
While the link between bone broth and fertility may be questionable when it comes to science and medicine, in the spirit of Mother's Day 2018, we would like to celebrate it! It's a link that we are proud of! We love to think that we've helped 5 (possibly many more) gorgeous mummies fall pregnant! Motherhood is a crazy, beautiful journey and just the thought of being able to be a part of that ride is a real treat. Better still, we get to see these little people grow to become bigger people, raised by their beautiful, bone broth loving parents. How special is that?!
To all our bone broth mamas out there, to our staff members who have welcomed new arrivals, to those who are expecting, to our own mothers – those here and those who have left us, I wish you the happiest Mother's Day imaginable. May you feel loved, honoured and treasured the way every queen deserves to be this Sunday May 13.
I will raise a brothee to honour each and every one of you on our special day!
BUY BONE BROTH